Sustainable Development as Freedom: Trends and Opportunities for the Circular Economy in the Human Development Literature
1. Introduction
The current understanding of development is grounded in the idea that it should be seen as promoting a better quality of life for individuals, rather than only monetary gains. This notion has its roots in the capability approach, developed by Amartya Sen, which proposes development as a means of increasing individuals' freedoms and opportunities, in order to be and to have whatever they want. The natural environment is an important supporting aspect for achieving these freedoms.
Although there has been an increasing number of studies jointly analysing human development and environmental issues, there is still a lack of such research in the literature, as, according to Sauvé et al. and Schröder et al. , many environmental studies do not incorporate social approaches in their analyses.
A clear example of this are studies in the circular economy (CE) domain. The CE aims to be a restorative and regenerative system, increasing value through the life cycle of products, reducing waste, and improving energy and material efficiency. The CE is an umbrella term composed of several practices and can be analysed at three different levels: micro level (products, companies, consumers), meso level (eco-industrial parks), and macro level (city, region, nation and beyond). Even though the CE can be considered as a way to operationalize sustainable development, studies on it have not adequately addressed social aspects, in such a way that one of the pillars of sustainable development is not yet well covered by the literature.
We believe that the capability approach (CA) perspective can be used to analyse these social aspects and that by performing an analysis grounded on the CA, a better understanding of how CE practices work with regards to the social aspects of sustainable development can be ascertained. This is because CA is considered to be a framework through which the increase in individuals' freedoms and opportunities can be measured.
Freedom is a fundamental aspect of the CA. Sen proposes five instrumental freedoms (IF): (1) political freedoms—being able to choose and participate in the political environment; (2) economic facilities—possessing economic resources for consumption and production; (3) social opportunities—access to social related opportunities such as education, health and leisure; (4) protective security—having a guarantee from the government to avoid privation; and (5) transparency guarantees—the possibility to trust in ethical behaviours. These freedoms can be applied to evaluate environmental issues, such as climate justice and sustainable development. According to Sen, a country should look to increase these freedoms in order to become more developed.
Based on the context of the foregoing, the following research questions have emerged, questions that have guided this study: (1) How can circular economy practices reinforce individual freedoms, and vice versa, generating a virtuous cycle? (2) How might these same practices, depending on how they are implemented, restrict freedom, disrupting this cycle?
Thus, this research aims to integrate the CE and the CA in order to identify how, depending on the way they were implemented, the CE practices can contribute positively or negatively to the IF previously mentioned, and how these freedoms can feed back into CE practices, creating a virtuous cycle. To this end, we performed a literature review analysing how each of several CE practices can be related to the IF dimensions. Our study complements the initial research carried out by Schröder et al. on this topic, and supplies avenues for future research.
After this introduction (Section 1), we present, in Section 2, a theoretical background regarding CE, CA, and the interaction between them. Then, in Section 3, we describe the method detailing the process used for the search, selection and analysis of the articles found in the literature aligned with our research goal. Next, in Section 4, we present the results regarding the positive and negative relationships identified between the CE practices and the five IF, and also propose some research opportunities arising from it. Next, in Section 5, we discuss the results, and finally present the research conclusions in Section 6. Throughout the text, the following abbreviations are used (Table 1).
Table 1. List of abbreviations.
| Abbreviation | Meaning |
| --- | --- |
| CE | Circular Economy |
| CA | Capability Approach |
| IF | Instrumental Freedoms |
| HDI | Human Development Index |
| IHDI | Inequality Human Development Index |
| GDP | Gross Domestic Product |
| CSR | Corporate Social Responsibility |
| LCA | Life Cycle Analysis |
| CO2 | Carbon Dioxide |
2. Theoretical Background
2.1. Circular Economy
Although there are an increasing number of studies about the CE, there is still no consensus regarding its definition. This may be due to the different concepts and areas of knowledge that preceded it . After reviewing 114 definitions, Kirchherr et al. (p. 224) proposed that the EC is "an economic system based on business models which replace the 'end-of-life' concept with reducing, alternatively reusing, recycling and recovering materials in production/distribution and consumption processes, thus operating at micro level (products, companies, consumers), meso level (eco-industrial parks), and macro level (city, region, nation and beyond), with the aim to accomplish sustainable development, which implies creating environmental quality, economic prosperity and social equity, to the benefit of current and future generations". The following three main points can be noted from this definition.
The change from a linear to a circular flow: the linear flow follows the steps of extraction, production, consumption and discard, without properly caring about pollution in each step; the main focus is on the economic aspect, rather than on the environmental or social ones. The circular flow, on the other hand, aims to recover material and energy at every step, minimizing the environmental degradation as much as possible. In order to be achieved, this transition from a linear to a circular flow needs the participation of different stakeholders, including industries, suppliers, retailers, consumers and governments, to create an environment with proper conditions and demands.

CE might be a way to operationalize sustainability: this idea is defended by several authors. The sustainable aspects presented by the CE can be obtained through material optimization and energy efficiency (economic), employee generation (social) and resource allocation (environmental). Therefore, the CE has both present and future generations in its scope, which is aligned with the notion of not forgetting that there is no sense in the awareness of the well-being of future generations while the present generation is passing through numerous privations.

CE can be analysed at micro, meso and macro levels: the micro level presents aspects related to products, processes and consumers. Although there are several products environmentally related to CE, its social benefits are not yet clear. Consumers, on the other hand, are already renowned because of the importance they give to closing product cycles. The meso level aspects include eco-parks and industrial symbiosis, and community involvement. Finally, the macro level deals with initiatives that involve cities, regions, and nations. They cover broader issues, such as macroeconomic policies, roadmaps for sustainable resource usage, infrastructure development, and even social cultural aspects.
2.2. Capability Approach
The CA proposes that development should be understood as the opportunities and freedoms individuals possess to be and have whatever they want. In this approach, "functionings" are defined as an individual's being and doing; "capabilities", on the other hand, are the opportunities and freedoms to accomplish these functionings. According to Robeyns (p. 96), the CA can be seen as a "framework of thought, a mode of thinking about normative issues", which can be used in a variety of fields and with different purposes, such as assessing individual well-being, developmental research and welfare economics, in an opposite way to the utilitarian and other resource-based visions. Therefore, the CA can be used to analyse social justice issues in fields lacking this kind of approach, such as CE.
As explained by, resources (means) can be transformed into capabilities (ends) through conversion factors, which are classified into three groups: personal conversion factors (e.g., physical conditions, age); social conversion factors (e.g., public policies, social norms); and environmental conversion factors (e.g., climate, infrastructure).
As emphasized by Reitinger et al., capabilities and freedoms are attributed to individuals, they can be analysed at the micro level. As mentioned by Robeyns, the CA can also be applied to groups, considered here in the meso level domain. Moreover, Lessmann and Masson have pointed to some studies that analysed capabilities at the macro level. The macro level can also count on development measurement approaches, such as the human development index (HDI).
Alves and Mariano analysed the five IF proposed by Sen in the climate justice context. According to them, the literature is mainly disposed for each freedom, as follows: (1) economic facilities, creation of jobs in the sustainable energy field; (2) social opportunities, access to water, housing, information, healthcare, energy and education; (3) protective security, the support that national governments offer their populations in order to supply basic needs; (4) political freedoms, related to political rights and representativity during the development of action to mitigate or adapt to climate change; and (5) transparency guarantees, concerned with the transparency between governments, the United Nations Organization and individuals.
Therefore, although there are relationships between freedoms and sustainability, they have not yet been identified in the literature, especially in terms of the CE practices. A better understanding of this could lead to the fulfilment of one of humanities' greatest challenges: achieving higher IF while preserving the environment. Next, we present the conceptual integration between CE and CA that guided this research.
2.3. Conceptual Integration between the Circular Economy and the Capability Approach
Considering the connection between CA and sustainable development, Sen proposed an adaptation to the famous sustainable development definition of the Brundtland Report (WCDE, 1987), by replacing the term "needs" with "capabilities", creating the idea that sustainable development should be seen "as development that prompts the capabilities of present people without compromising the capabilities of future generations'' (p. 11). The inclusion of the freedom approach in the sustainability domain is supported by the CA and environmental literature.
When considering the CA from a sustainability context, Lessmann and Masson (p. 64) propose that "the capability approach specifically looks at how sustainability influences individual freedom and well-being, and at the freedom of individuals to contribute to sustainability".
In this respect, CE should be a way to operationalize the idea of sustainable development as freedom. In order to accomplish this, the social domain, which is already incorporated in the sustainability concept, should emphasize the increase in individual freedoms and be significantly applied in the CE practices. The three levels of CE are complementary, and can proportionate benefits toward improving IF, by considering producers, processes, consumers, industries, and policies.
In this respect, Schröder et al. (p. 5) proposed a new definition of CE, based on the one stated by Geissdoerfer et al. and incorporating the notion of IF (capabilities). For Schröder et al., CE can be defined as: "…a human-centred regenerative and restorative socio-economic system which increases human choices and builds human capabilities by recapturing the value of materials and waste for people through slowing, closing, and narrowing material and energy loops that minimise resource inputs and waste, emissions, and energy leakage. This can be achieved by empowering workers, enabling social inclusion and fostering sustainable lifestyles through applying practices and policies for long-lasting human-centred design, maintenance, ensuring rights to repair, reusing and sharing, remanufacturing, refurbishing and recycling". In Figure 1, we summarize the main concepts of this research in a theoretical framework.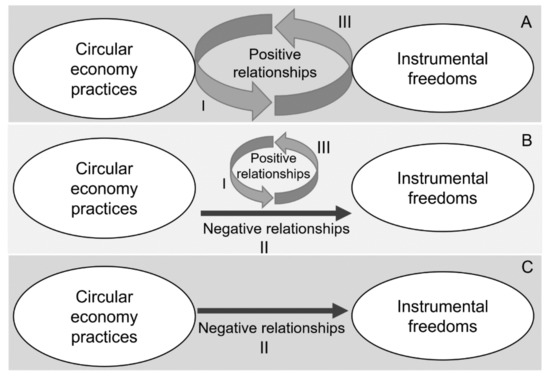 Figure 1. Conceptual integration between CE practices and IF. In the framework, we present three possible scenarios: (A) There is a perfect virtuous cycle between CE practices and IF, so that the CE practices have a positive effect on the IF (flow I), which, in turns, has a feedback effect, straightening the CE practices (flow III). This is the hypothetical best scenario; (B) There is a less optimistic scenario, where the two previous flows (flow I and III) coexist with a possible negative effect of the CE practices on the IF (flow II). In this scenario, the virtuous cycle becomes less intense; and (C) Then we have the last scenario, which is the hypothetical worst scenario, where there are only the negative relationships (flow II) and the virtuous cycle does not exist anymore.
In an analogy of Rannis et al. that proposed a virtuous and vicious cycle between economic development and human development according to the emphasis given to them, we believe that an emphasis on IF while developing CE practices would equally create a virtuous cycle between them. Considering that the "ends of well-being and development" in Sen's views are considered more important than the means to achieve them [17] (p. 95), in this paper we posit that CE practices would be a means to achieve the end of IF. We have detailed this interplay in the results and discussions sections.
3. Materials and Methods
We performed a literature review in order to accomplish this research aim. Review papers are important, as they synthesize the current knowledge on a subject and provide avenues for future studies. There are different ways to conduct a literature review; the one provided in this paper can be understood as a framework-based review.
First, we selected the Scopus database as our main source of documents, as it supplies a broad range of recent literature. It also includes papers with and without Journal Citation Reports. For such reasons, it has been used as the main database in other review papers.
Considering the theme's novelty, which is not an impediment to the realization of a literature review, relying solely on a traditional database, such as Scopus, would likely be insufficient to return an adequate number of papers. Therefore, we relied on another strategy. Literature reviews can also be performed in emerging areas. Klein et al. found few articles for their systematic review of the CE, applied in the public sector, due to the newness of the theme. Therefore, they increased their sources in a non-systematic way. Applying this reasoning, we opted to include articles located on Google Scholar, a resource which has been applied in several review papers in the CE domain.
Our research strategy proceeded by searching for CE review papers, in order to find practices related to CE. The following papers were used for this purpose:. Other papers were also read but did not provide new information, which was a requirement for this stage of the review.
We read these review papers and extracted all the CE practices indicated within them. In this way, we amassed a total of 53 practices that were then categorized into nine groups of practices, hereafter called: design group, servitization group, tax group, consumer behaviours group, circular production Group, 6R's group, corporate social responsibility group, resources group, and closed loop supply chain group.
The nine groups were devised, as some of the practices were similar and would not have a lot of correspondence with CA (e.g., design for disassembly/recycling and design for modularity) and we felt that it would prove easier to achieve satisfactory results, if generalised. The categorization was made by observing our results relating to IF and adapting the categorizations provided by Kalmykiva et al. and the ReSOLVE framework. This approach is commonly used in CE papers.
We then searched Scopus and Google Scholar for these practices, using the following string "'Practice name' AND 'Human Development' OR 'Capabilit* Approach'". In order to increase the number of documents located, we included conferences, articles and review papers. The search included only documents written in English. We used the terms "Human Development" and "Capability Approach", as they are more appropriate terms to search for articles in the CA literature, rather than Freedoms, which is a word common to other research areas.
Some practices (e.g., reduction, restoration, separation, stewardship, and upgrading, maintenance and repair) are also too generic, in that they have a variety of meanings in different contexts. Therefore, for these cases, we included terms associated with each CE level as indicated in the following search string: "'Practice Name' AND 'Product' OR 'Compan*' OR 'Consumer' OR 'Eco-industrial parks' OR 'City' OR 'Region' OR 'Nation' AND 'Human development' OR 'Capabilit* Approach'". At the end of the review process, we had accumulated 72 papers related to the focus of this study (Figure 2).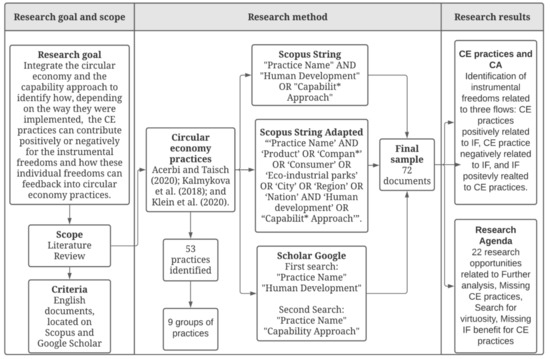 Figure 2. Research flowchart.
Similar to the method performed by Bisaga et al. and Nerini et al., we did not intend to map the whole literature, but rather to find possible positive and negative relationships between the CE practices and CA. For this reason, we did not present the total number of documents, having rejected those that did not match the research criteria, from each search. This has already been done elsewhere.
Next, for the data analysis, we divided the results into each of the nine groups, presenting a correspondent table with the following information: Flow orientation (CE→IF (+); CE→IF (−); IF→CE); Related IF (considering the five freedoms proposed by Sen); Explanation; Main CE level studied (micro, meso, and macro); References. It was not the aim to provide a summary of each study, but rather to highlight the main points of how the CE practice can be related to IF; this matched our intention to provide guidelines to develop a virtuous cycle between CE practices and IF.
Finally, considering that the identification of gaps in the literature is one of the main contributions of review papers, we prepared a research agenda based on the gaps related to the previous steps. Similar to Ferraz et al., we divided the research gaps into groups; we created four groups for this: further analysis, missing CE practices, treat on virtuosity, and missing IF benefits for CE practices. These gaps related to a lack of studies considering certain CE practices, to research opportunities that emerged from the already performed research, to a better understanding and mitigation of negative outcomes from the application of some CE practices to IF, and to some IF that were not clearly investigated in terms of their benefits for CE practices.
4. Results
In this section we present the results that we found in the literature regarding the three flows that we are analysing in this research, which are summarised in
Figure 3
. Considering the flows: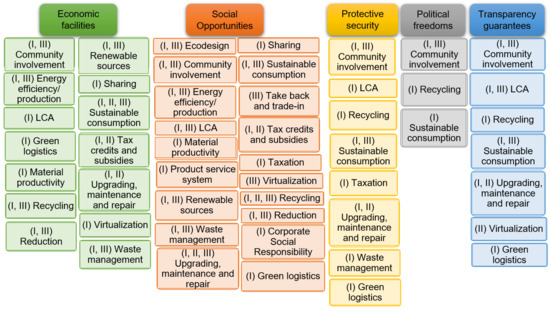 Figure 3. CE practices and IF. Note I: CE→IF (+); II: CE→IF (−); and III: IF→CE.
(I)

Represents the context where the CE practices have a positive outcome, increasing the IF: CE→IF (+);

(II)

Represents the context where the CE practices have a negative outcome, decreasing the IF: CE→IF (−); and

(III)

Represents the feedback effect from the IF straightening the CE practices: IF→CE.
Next, in each subsection we detail how the literature has analysed each group of CE practices considering the IF, which are the CE levels that have been considered, and the research opportunities that we identified.
4.1. Design
We placed all the practices related to the design of products, processes and services in the design group (circular design*, design for disassembly/recycling, design for modularity*, ecodesign, functional design*, and customization/made to order*). Asterisk sign (*) is used to indicate that no article was found in the literature regarding this specific CE practice applied to CA. We identified five studies on this theme, all of them being more related to the CE micro level of products (Table 2).
| Flow Orientation | Related Individual Freedoms | Explanation | Main CE Level Studied | |
| --- | --- | --- | --- | --- |
| (I) CE→IF (+) | Social opportunity | Considering features in the product/service design in order to support the expansion of user's freedoms while keeping the sustainable appeal, aspects of diversity, accessibility and local context should be considered. | Micro (product) | |
| (II) CE →IF (−) | NA | NA | NA | |
| (III) DH→IF | Social opportunity | An increase in individual freedoms, especially human capital, can support the development of these practices. | Micro (product) | |
Note: NA = not applied (we did not find any research analysing this flow).
Sustainable design strategies used for the production of goods can be improved by incorporating the sufficiency of basic needs. The design concept can also be incremented to consider environmental aspects. It is also important to consider local and community specifications in this stage. Applying the CA to design allows an individual's life, and personal, social and environmental conversion factors, to be contextualized. This is done in order to expand current capabilities by shaping products to the situation. Therefore, it is also important to consider human diversity, keeping in mind the freedom to choose while promoting empowerment opportunities. The CA can also be incorporated into the educational aspect of sustainable design practices, which would improve student development.